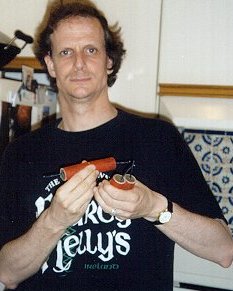 Are you serious about meeting your business objectives in today's competitive marketplace? Then Vernon T. Bludgeon Consulting is ready to provide you with a seamlessly deployable, totally transparent turnkey custom solution that will set you on the path to market domination and profitability that will exceed your expectations. A specially trained Vernon T. Bludgeon Consultant will sit down with you to develop a plan to identify and eliminate all obstacles to your success. And it will work.
That's because Vernon T. Bludgeon has a proven track record of furthering his clients' interests ever since he founded VTB Consulting at the age of 11, when he began extorting a percentage from the school bullies who were robbing kids of their lunch money. Soon he held a commanding position in what had hitherto been a competitive market, and quickly broadened his market share as numerous school officials were brought on board and added to his payroll.
Vernon's instinctive feel for the nuances of violent crime and capitalism have served him and his clients well ever since. Whether it's a question of interfacing customer interaction strategies to leverage enterprise delivery infrastructures, or you simply need us to kick the shit out of someone, VTB Consulting has the answer.

Hook up with Vernon and nobody will dare fuck with you again.